Wassaw Island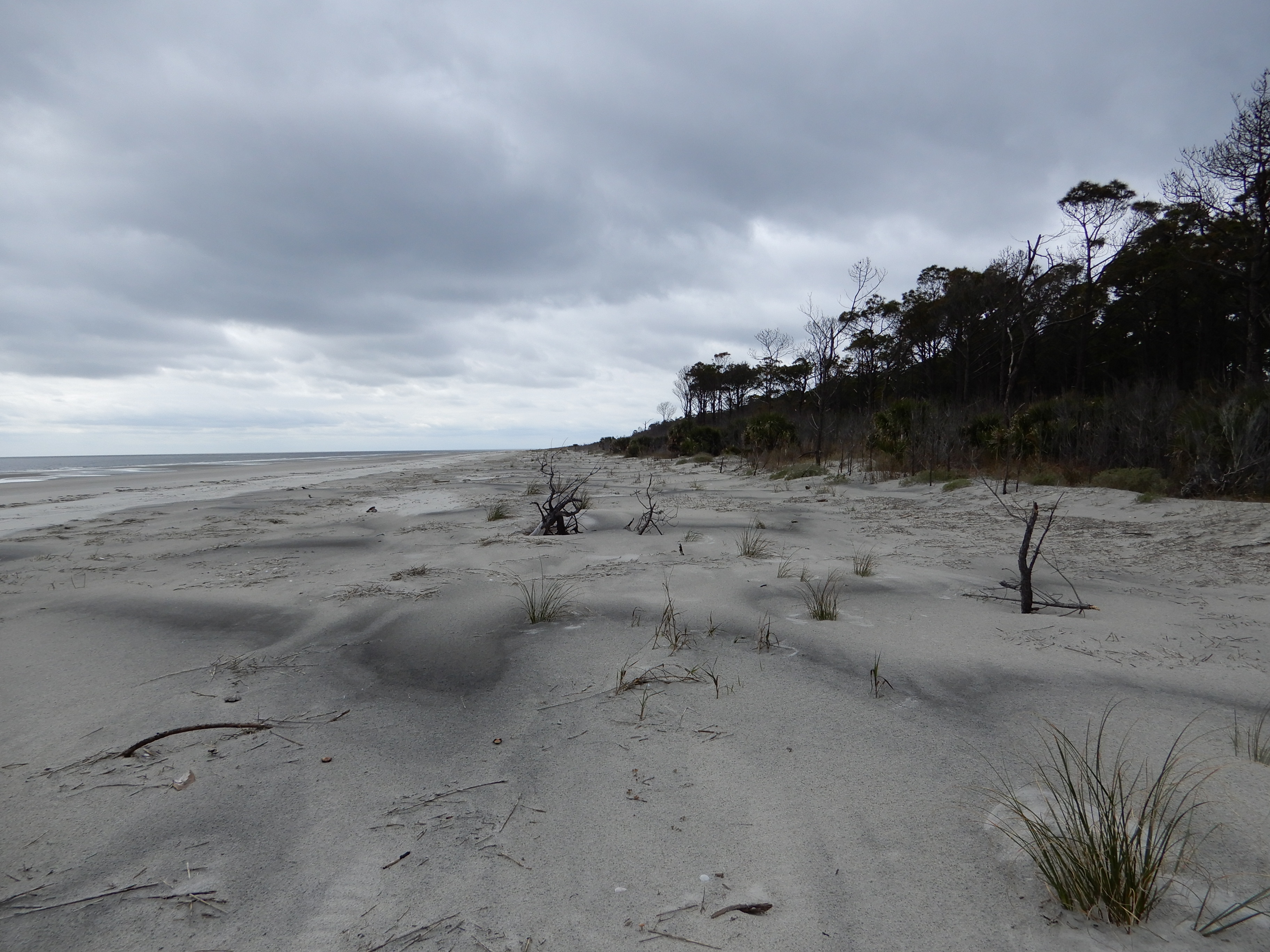 Wassaw Island is a barrier island on the Georgia coast. The island trends northeast-southwest, is about 8.5 kilometers (5.3 miles) long and 1.2 kilometers (0.8 miles) wide, and is located between latitudes 31° 55' and 31° 51.4' N. Unlike most Georgia barrier islands, Wassaw formed less than 1,000 years ago. It represents a continuation of the modern barrier-island shoreline shared with the eastern part of Ossabaw Island (to its south) and Little Tybee and Tybee Islands (to its north). Skidaway Island (to its west) was originally a coastal barrier island on the Silver Bluff shoreline during the Pleistocene Epoch, but the formation of Wassaw isolated Skidaway from open-ocean waves and is now classified as a lagoonal island.
Ecosystems on Wassaw include salt marshes, maritime forests, beaches, and freshwater ponds. Salt marshes are extensive west of the main part of Wassaw and separate it from Skidaway Island; if included as part of Wassaw, these ecosystems would make up about 75% of its land area. The climate of Wassaw is temperate to subtropical, with temperatures ranging from an average high of 90° F in the summer to 50° F in the winter. Average rainfall is about 20 centimeters (50 inches)/year, with most precipitation during hurricane season (May-September). Until recently, hurricanes only affected the Wassaw and other Georgia barrier islands infrequently, but most islands were impacted dramatically by Hurricanes Matthew (2016) and Irma (2017). The 1893 Sea Islands Hurricane also left a lasting mark on Wassaw, forming a prominent coastal sand ridge. This unusually tall ridge is still in the island interior and covered by maritime forest.
Of all the Georgia barrier islands, Wassaw is the closest to a so-called "pristine" status, having experienced a minimum of human alteration since its formation. Part of its near-natural state can be attributed to its geologically young age, which did not even allow for a prolonged Native American (Guale) presence until after 500 A.D. However, even after Europeans arrived on the Georgia coast, Wassaw did not experience any large-scale settlements, plantations, significant animal husbandry, or commercial logging. Also unlike every other Georgia barrier island, it was owned by a formerly enslaved African American, Anthony Odingsell. Odingsell inherited the island from his former owner and lived on the island afterwards. In 1866, he sold the island to the Parsons family, who later constructed buildings and a limited network of sandy roads through parts of the island. The only other significant human-made structure on the island from the 19th-20th centuries is a former U.S. military fort on its northeast point built during the Spanish-American War of 1898. Although the fort was sited in coastal dunes then, longshore drift and sea-level rise have since left its ruins more than 50 meters (160+ feet) offshore and in the surf zone.
In 1969, the Parsons sold the island to the Nature Conservancy, which turned over management of the island to the U.S. Fish and Wildlife Service. The Fish and Wildlife Service then designated the island as a U.S. National Wildlife Refuge and they maintain a station on the west side of the island. As a nature reserve, Wassaw is especially important for seasonal nesting of shorebirds and sea turtles. The interior of Wassaw is also home to a healthy population of alligators, which have created freshwater wetlands within its maritime forests by wallowing and digging dens.